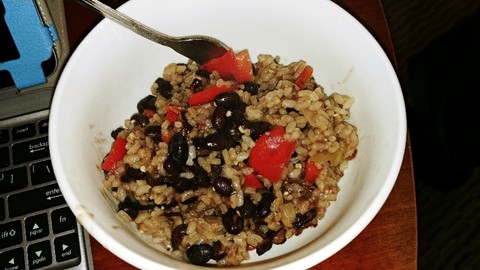 One of the things you find when you are living in limited space is that you have limited space to store food. I know – DUH!
Due to a slight miscommunication on how many cans of black beans we really needed for Taco Stew, I had an extra can of them lying around, along with a pepper that really needed eating up. It was a little wrinkly for a salad, but would be just dandy if you were cooking it. I also had some rice on hand, because if you eat rice, you should always have some on hand.
So… Beans and Rice.
I haven't been doing many (okay, any) vegetarian meals here, mostly because I am a carnivore, but there are some vegetarian meals I am fond of, and this is one. It's easy, it's quick, it's healthy, and it's tasty.
To make this meal, you will need:
Sharp knife
Cutting board
Deep Skillet with a lid and heat source
One-Pan Beans and Rice
1 15 oz. can of Black beans (Don't try dry beans here. Takes too long to cook)
2/3 c. rice
2 c. diced bell pepper. (I happened to have red. Any color is fine)
½ c. diced onion
2 T minced garlic
1 ½ c. stock (vegetable or chicken is fine. I used water and a bullion cube)
1 T Montreal Seasoning. No, stop looking at me like that. The heavy pepper is good and it's versatile. If you don't have room for a big spice rack, this is something you want on hand.
3 T olive oil
Heat the olive oil on medium high. Sauté the peppers, onions and garlic until the onions are translucent. Add the black beans and rice. Stir. Add stock and give it another good stir. Cover and reduce heat to a simmer. Cook for ~20 minutes.
I had planned for leftovers. Looks like there won't be any. Which, given the tiny fridge, I am actually just dandy with!