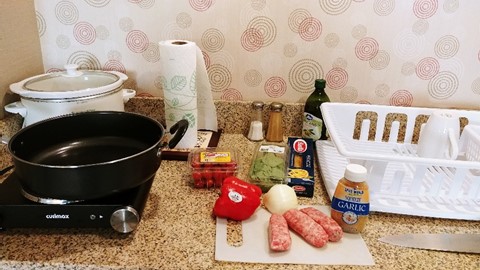 Here we have another great meal when you have few utensils and little space. Make this delicious pasta dish in a deep-frying pan; it doesn't even require a colander!
You only need the following kitchen equipment:
Heating source (Hot plate or camping stove. I'd even attempt it over a fire, but it'd need to be a hot one)
Cutting board
Sharp knife
Deep Pan
Basil Fettuccini with Sausage
(serves two. Scale up for larger party)
½ lb Italian sausage, sliced
½ lb Fettuccini
Handful fresh basil, torn or chopped into pieces
½ large red pepper
¼ c onion sliced fine
2T Minced garlic or 2 cloves garlic sliced fine
1 cup cherry tomatoes, sliced in half
2 ½ c water
3 T olive oil
¼ c grated parmesan cheese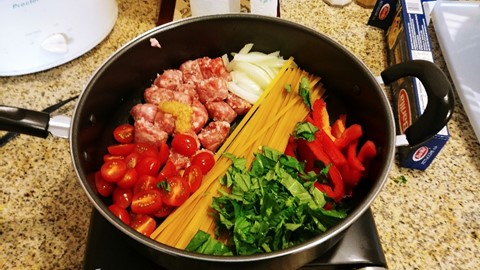 Drizzle olive oil in the bottom of the pan. Arrange ingredients according to the picture. The important thing is to have the pasta in the middle as flattened out as possible. Pour in water and turn on high heat. As the pasta starts to soften, you need to stir or shake the pan frequently. If you're using something like Fettuccini, you're going to need to cook it for about fifteen minutes. If you're using spaghetti, you'll want a little less water, and you'll want to cook for less time. Be careful not to use something like angel hair or the sausage will never have a chance to cook thoroughly.
When the pasta is soft, and the water has thickened to more of a sauce, add parmesan cheese and serve.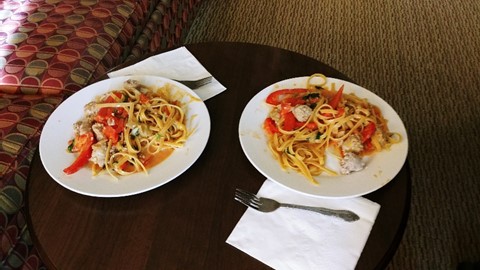 This meal is easy and quick. You don't need a lot of equipment, it uses fresh ingredients, and it takes less than half an hour. My kind of meal!
After we ate, I commented that it might be better if you browned the sausage first, then added the water and other ingredients. But still, quite easy and tasty.