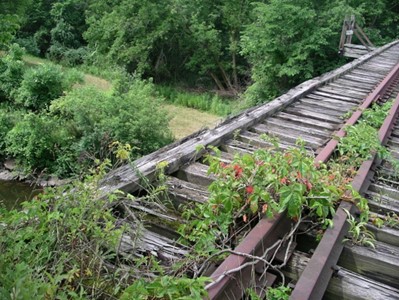 So, here I am on a disused train trestle bridge having my hand held like a daggone three year old while my heart is trying to pound through my chest and I can't stop myself from looking down through the gaps in the trestle to the Certain Death below.
No, in Real Life, I was in almost no danger. The ties were less than a yard apart and were mostly steady. Even if I'd fallen, there was no way in the world I would have fallen through ties that close together and strong enough to hold a train. Ah, irrational fears. Silly me, I thought to mention my fear of strange dogs to the organizer of the Mascoma River Greenway when I went on a tour of the prospective route. What I did not mention was my strong distaste for unprotected heights.
Lebanon, New Hampshire, never let it be said I do not love my adopted city. Virginian I may be, but I'm doing this for you, Lebanon. You need a greenway.
Most of the work for this greenway has already been done. See those railroad tracks? Railroad tracks mean a graded rail bed, and a very strong fill. You need that to support the locomotive. As you will see in this series of pictures, we do not have intercity rail to any great degree in rural New Hampshire. Like most of the rural US, we drive when we want to get somewhere quickly.
So, there's all this work that was done at least fifty years before I was born, and that work still stands. The cuts and fills are still there, the structure of the bridges are still quite sturdy, despite Miss Scaredy Cat having trouble keeping her heart rate down going over one of them. This means all we need to do is get those rails up and make the surface smooth enough for bikes. Smooth enough for a bike means smooth enough for a pedestrian.
Lebanon is full of enthusiastic bikers and walkers. Many of us move here because we like The Great Outdoors, we're relatively health-conscious, and most of us would just as soon keep down pollution using green methods of transportation.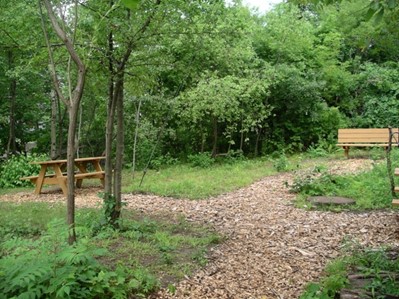 Enthusiasm for safe and pleasant walking or biking, as well we recreation areas, can be seen even among the improvements put in by locals. At the beginning of the Greenway, just outside of the tunnel under Hanover Street, a young man chose to create a "pocket park" as an Eagle Scout project. As you can see, it looks wonderful and is a great place to hang out and enjoy a little piece of the Mascoma River.
There is also local support for the Greenway. As we were walking on the stretch of the trail between High Street and Slayton Hill Road that is open to the public, we saw an elderly local, cane in hand, who urged us most emphatically to get moving on the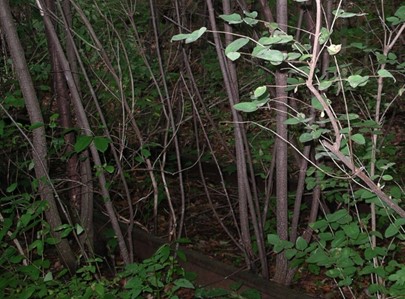 project, as she'd like to see it completed!
While we do not have the extraordinary work that would be required were we to be starting from scratch, there is still (in my own profession's parlance) a non-trivial amount of work to do. Check out the picture to the left. As we crossed over the bridge over Slayton Hill Road, we moved on to the areas of the trail where the rails are still lying disused. See the trees growing up between the rails? Since the railroad hasn't been active for a long time, plant growth is taking over. However, Greenway. This means that while we need and want a place to walk and bike, we also want plants and growth around us. This is intended to be a multi-use trail that will retain the natural beauty that our area has in such abundance.*
There is serious evidence that even the parts of the Greenway which have not yet been properly constructed are being used by residents. There are clear paths beside most of the overgrown rails and informal access points worn smooth by many feet. Even in advance of the trail opening, it is being used, telling us that improvements in walking or biking conditions would open it up to even more pedestrian and bike traffic, safely away from busy roads.
The estimated cost of the project is $2.1 million. Yes, that's a fair amount of money to raise, but the payoff in terms of walkability, property values and safe, green transportation will be worth it.
You don't think so?
How would you rather get somewhere?
I took the picture on the left today as we were walking over the 89 bridge. I know how I'd rather have gotten to the movie theater or Price Chopper!
_______________
* In fact, though I wasn't quick enough with the camera to show it to you, I saw quite large and beautiful deer bound across the trail we'd just crossed towards the end of our hike.