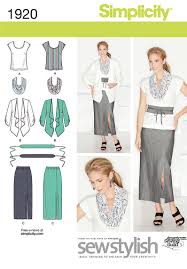 I used to say that I learned to sew in self-defense because I am fat and like to dress nicely.
While there's some truth in that, now that I know how to sew well enough that I get compliments on my clothing on a pretty regular basis, there's more to it. While I probably would buy more RTW (ready to wear) clothing than I do now, I think I would still sew a lot of my own wardrobe because… Well…
I so seldom find anything in a store that truly suits me and my tastes. The style might be right (it's very hard to go wrong with a well-fitting shell and tailored jacket as a design), but this season's colors and prints might not be what I like. Or the colors are awesome, but I dislike the design elements. Or, since I prefer coordinating wardrobes because I'd rather just be able to grab stuff from my closet and not think too much about it once I've already put my hard-earned money into it, I can't seem to find pieces that coordinate well to create more than a couple of looks for less than $300.
Accessories help. I spent last winter on a project that left me no time for sewing. I bought five pair of pants (three black, two gray), four skirts (two black, two gray) and two jackets (one black and one gray) from a fat lady retailer that I retailored a little (gotta love princess seams!) and wore with some shells I'd already made and mixed it up with scarves. While a bit boring after a whole winter, I'm good enough at accessories, it worked okay.
I started looking for clothes that would be good for summer office wear and was getting frustrated with what was being offered (what designers are offering as appropriate office wear has me reaching for the smelling salts and clutching my pearls, it really does), and as a bit of a lark, tried look
ing in the "normal" size departments.
That was also a big bowl of nope (barring suits. You can ruin a suit, but it takes a special effort). The stuff I really like… Well, apparently I have refined tastes, just sayin'. I don't think of my fashion sense as anything but boringly practical, but apparently boringly practical has one heck of a high price tag.
I think my departure from the fashion industry at this stage in the game is that I can't afford RTW that suits my tastes as well as stuff I can make.