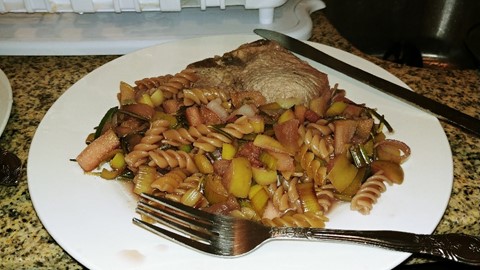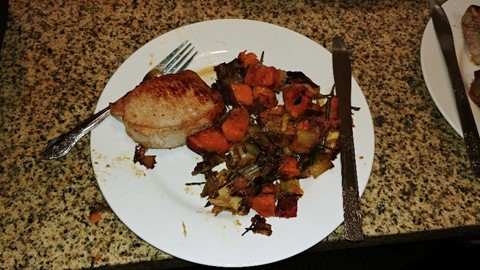 So, last week, I thought I'd try something with apples and leeks with pork in rosemary and red wine. Sounds great, right?
Well, that dish on top was what I did. I asked The Prince how he liked it and he shrugged. Since I'm making these meals at least in part because I want to post articles on my blog about them, I asked him what was wrong. His comment, "The pasta is okay and all, but you know that apples, onions and sweet potato dish you do in the Fall? I think that's what this dish is really calling for."
He was right.
The dish I do every fall? I slice apples, sweet potatoes, and onions, layer them in a dish with a bit of butter on top, cover, and bake. Delicious, and if you have an oven, I encourage you to try it. A friend of mine back over a decade ago brought it to a family meal once, and it really is very, very good.
Using The Prince's inspiration, I adapted this to a one-skillet meal you'll be sure to love. The pasta version is okay. The sweet potato version is All That's Good About Fall is and like angels singing.
Equipment you'll need:
Deep Skillet with a cover.
A source of heat that's reliably even
A sharp knife
A Cutting board
Pork Chops Graced with Autumn Goodness
1 pork chop for each person you're serving. They should be reasonably thick.
1 Medium apple, diced. I prefer the tartness of a Granny Smith to contrast with the sweetness of the sweet potato, but a firm, sweet apple would also be okay.
2 cups sliced leeks
2 cups sweet potato, cut into 2-inch cubes
3 T olive oil
¼ c red wine
1 sprig fresh rosemary, or 2 T ground rosemary
Salt and pepper to taste
Heat olive oil in a pan on medium. Add sweet potatoes and cook ~10 minutes, covered.
They should start to be softer around the edges but still firm. Add leeks and apple with rosemary and cook another 5-7 minutes covered until leeks become tender.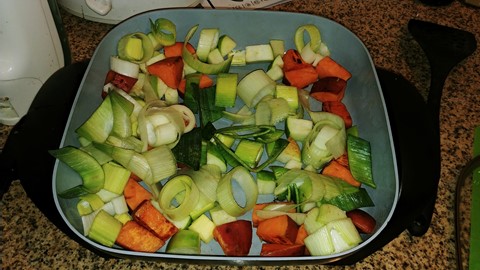 Add red wine and pork chops, sprinkling with salt and pepper. Cook about 3 minutes on a side until cooked through.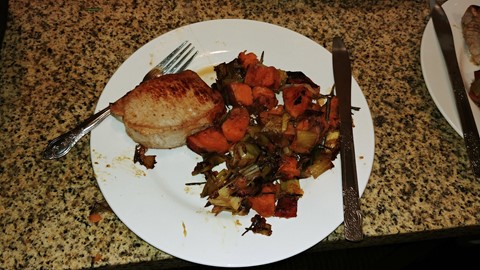 Serve.
(The Prince insists that I must add the caution that one should not count on leftovers)