At Sea
The last day of the cruise! *POUT* We had breakfast with a couple of people who worked for utilities in Connecticut. They do a lot of cruises and really seemed to enjoy themselves. I had French toast. Peter had Eggs Benedict.
Peter was having a real problem with his sinuses combined with a massive headache, and needed to lay down a bit. So I went to the library to update this journal. Then I went up on deck and read in the sun for the rest of the morning. Yes, I love chilling in the sun and reading, so it was great. After a Dayquil and a nap, Peter was fine, which was a relief.
After that, we went to lunch. Peter had beef tenderloin with potatoes au gratin and asparagus. I actually had a hamburger and fries. Don't laugh. That was darn near up to Beastburger levels of yum. For dessert, we had a praline trifle.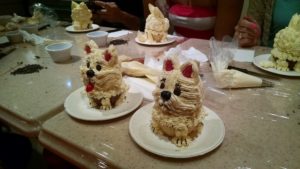 After lunch, we had a class in how to decorate cupcakes. Chef Marlin, a pastry chef from Manila, taught us. I was utterly and completely blown away with his instructional skill. I am not particularly neat-handed, and am not really all that good at cake decorating, so I was a good example of someone who would be difficult to teach. When you get someone who is not confident, you teach a different way than you do when you have a student who is confident in skills. He even polled the class to get an idea of what level of experience he was dealing with in his students, an important thing when teaching a skill.
Like a great teacher, he walked us through the process step-by-step, chose a project that let us use a few easy techniques to create something really fun, and he was good at engaging the learners. As a teacher, myself, I can say this guy was good!
After the cupcake class we headed back to the solarium to loaf on the pool deck. Being the last day, we did indulge in a daiquiri by the pool. It was lovely. As we were mourning the loss of the fun, we did get an alcohol-fueled wild hare and had to rush to leave the deck for a few moments to go down to customer service.
See, the ship was going to be going to New England for its next cruise and one of the ports at which it was going to call was… BOSTON! We'd parked our car at Logan. In our addle-pated way, we figured if the first port of call was going to be Boston, maybe we could buy an extra night on the ship and just cruise until we got there. Certainly, it would be nicer than an airplane. The T goes from the port to Logan, after all!
As it turned out, Boston was going to be its last port. So, no. We didn't have the time. But it was worth asking, right?
We went back on deck to enjoy the rest of the day in the sun. After that, we headed back to our cabin to dress for dinner and pack.
The last dinner we had a shrimp dish with rice. Peter had a garlic soup for an appetizer, and I had the minestrone. I know, weird. Our wait staff also sang Happy Anniversary to us and brought us a chocolate espresso torte for dessert.
We had a drink in a lounge, but dancing didn't get started until we really needed to head to bed. We really didn't want that cruise to end!
Disembarking
We had breakfast in the dining room before disembarking. It was totally smooth, as was the trip to the airport. However, in my caution about making sure we had time to make flights and such, I booked a five thirty flight. We got to the airport at 10:30, so you can imagine that we were not excited about the wait. Peter suggested seeing if we could get on an earlier flight.
As it happened, we could! Not only could we, it turned out very lucky, indeed. We got to Boston around 3:30, and as it happened, the flight we were scheduled to take was delayed and didn't get to Boston until 8:30 in the evening. That was long after we'd done some grocery shopping, gotten home and unpacked.
Thoughts on Cruises
I love cruises, obviously. I love being on a ship.
It does amuse me, though, how much it brings out who people are. There were a lot of people who had been on the Oasis of the Seas, the first of the Oasis class cruise ships in the Royal Caribbean line. The ship is larger than the Liberty, and people were extremely impressed by that, and felt that having been on it was impressive.
I mean, don't get me wrong, it's a miracle of engineering! Any ship that can comfortably carry 7,000 people and keep them happy and entertained has taken an enormous amount of thought and design. That's pretty impressive.
But at a certain point (and certainly the Freedom class ships like the Liberty of the Seas have reached it) were you sometimes feel like you're more on a floating hotel than you're actually sailing in a ship, if that makes any sense. The nautical experience kind of fades away some, and I find that a little sad. Though if you gave me a cruise on the Oasis, I promise you not only would I not refuse it, but I would likely have an awesome time!
It's also funny to me that there's a certain level of snobbery around staterooms. When Peter and I cruise, we usually get an interior stateroom. Why? Well, they're much, much cheaper. I don't go on a cruise to hang out in my room. I know of people who say that they'll only sail if they can get a room with a balcony. Would I enjoy breakfast and leisurely coffee on the balcony while at sea? Of course. I'm sure it's great. But the markup is damn near the price of another interior stateroom ticket. Don't be foolish. I'd rather go on two cruises and skip the balcony!
I've also encountered a lot of misconceptions about cruising that I'd like to clear up.
The Staterooms are Small
Well, okay, you've got me. They're small. Ours was about 152 square feet.
But before you freak out, how space is designed can help.
There's a bed area where you can have twin beds or a king-sized bed, with a nightstand for each side of the bed. The nightstand has a drawer and a cabinet area and there are reading lights for each person. The bed area can close off with some pretty good darkening curtains. We found that our empty suitcases could fit stored under the bed quite well.
There is also a sitting area with a small love seat and a desk/vanity with a large wall mirror, several small shelves, and lights beside it; as well as a flat screen television. Believe it or not, we used the television. It's interactive, so you can check your shipboard account balance, book excursions and sign up for classes right there if you don't want to go physically to the excursion desk. The desk has about six small drawers.
There is also a closet with a safe for valuables, a place to hang clothes, and some shelving.
The bathroom is really small with a large mirror, a cabinet that closes, and a shower that is saved from feeling claustrophobic by having a curved door and a very adjustable showerhead.
The trick to living in this sort of space comfortably is, well, making sure you keep your cabin shipshape. The storage is designed to close and stay closed through any pitch and yaw you might encounter. If you put everything away in cabinets and keep it tidy, the room will not feel oppressively small. Clutter will change that, and if you've come with no more than one suitcase per person, you've a place to put everything, I promise!
The only thing you do on a cruise is eat at buffets and get drunk
There are many people who spend their time on cruises that way. I bless them, as the extra bar bills keep the price of my own cruise down.
First of all, the buffets are nice to have available when you're too busy to dine, but they're not the best food option on any ship. Don't get me wrong, the food is usually good in them, but you're missing out if you don't go for the dining room experience. The food is better, with better presentation, and if you don't like something, all you have to do is ask for something else. Or an extra serving of whatever you like, or whatever. They try very hard to make sure you get exactly what you want! You just have to ask.
But even though I do like the food on cruise, no-one eats all day, right?
What else is there to do?
On days at sea:

Hang out by the pool.
Take a jog/walk around the track on deck. (Our ship was four laps to a mile)
Work out in the gym.
Go to the spa and get a massage, nails done, hair done, a facial, or a million other spa type things I don't know about because it's not something I've spent much time on.
Attend some of the many enrichment activities. I've attended lectures on the running of ships, taken tours of the kitchen, gone to destination lectures, taken dance classes, taken cupcake decorating classes, as well as other things.
Dance and party by the pool.
Curl up in a comfy spot on deck or inside by a window and read.
Surf the Internet (Though I didn't. It's extra and I am paid to be a geek. I don't pay other people to be one!)
Surf on a surfboard. (There's a wave simulator on some ships)
Go rock climbing
Play basketball or volleyball.
Play mini golf
Shop. We were joking that our ship had a bigger shopping promenade than our Powerhouse Mall back home!
See shows
Watch movies
Go clubbing (most ships have a lot of different bars and clubs) and you don't have to pay a fee to get in and they don't kick you out if you're not drinking.
You get the idea. There's a lot to do. My problem tends to be one of making sure I get everything I want to do in rather than trying to find something to do. The ship hands out flyer every day with all kinds of info, including a daily schedule and there never seems to be enough time!
On days in port:

It depends on the port. Often there are lots of water activities to choose from. You can do anything from hang out on a beach to going SCUBA diving. You can take boat sightseeing cruises, tour the destination port, learn about the people there, go shopping, you name it. If you get bored in port, there's no help for you!
You don't get any privacy
It is true that ships really do have a lot of people on them. That's for real, no kidding. You do have to deal with your fellow man. If you're introverted like me, that can seem daunting.
The trick here is to find quiet spaces. Cruise ships have lots of them, if you know where to look. Lower decks tend to have fewer people on them, so you can get outside to stare over the ocean and look for sea life near the lifeboats and you're unlikely to be disturbed. Ships usually have libraries, and people respect that libraries are supposed to be quiet. Each ship and each cruise is different, but if you spend your first few hours on a ship simply trying to get lost and exploring the ship, you can usually find five or six spaces where you can go for quiet and solitude.
If your idea of a vacation is to go where there are few to no humans, then no, a cruise is not for you. But you can get peace and quiet easily enough if you know where to look.
Darn it, thinking about all of this makes me want to go on another one!