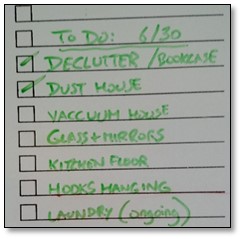 My husband never helps around the house.

Now those of you who know my husband are about to freak out and jump to his defense. Stay with me, this isn't as bad as it seems.
My husband never helps around the house.
A few years ago, my husband read, as many men did, "You Should Have Asked" and had rather a revelation. Like a lot of men, they were absolutely happy to do assigned chores. They understood that they lived in a home, so they also needed to do housework.
So, if a chore was assigned, they'd do it and that was cool. They'd do exactly what was asked. They were good, modern men who were supportive of their partners' needs and didn't expect all the housework to be done by the woman.
The point of that comic, if you didn't read it, was the idea of the mental load – how the project manager doesn't do the work because managing is work. Many, many women are the "home project managers" as well as the staff. The comic throws it into sharp relief.
See that to-do list? He wrote it after a discussion with me. We both had finished some projects (him a graphic novel due out July 4th, and me a programming class) and neither of us had really addressed the housework all that much. Nothing outrageous, but he commented that the house needed some TLC, and was Sunday an okay day to do it?
Both of us stay on task better when we have lists so we don't get distracted (as I am right now writing this piece!) and so he asked me to help him come up with What Needed Doin'.
He took the initiative. He asked for input. We do have slightly different household priorities. He's a much more thorough vacuumer than I am. I care more about glass, mirrors, and basic levels of clutter. But between us, yeah, the work is done and done well.
So no, my husband never helps around the house. He knows that the home needs maintenance and will take ownership of that fact.
Which is exactly what we need to see more of!