I have been utterly obsessed with knitting knee socks lately. I like to wear skirts, I live where it's cold, but between long johns and knee socks, I can wear a broomstick skirt and still be plenty warm.
But! I have a problem. Slender, I am not. Shoot. Let's not put too fine a point on it – I'm plus sized and carry my weight a lot in my legs. Yes, this means that regular knee socks aren't going to fit my calves all that well.
But! I can knit. Not only can I knit, I am very good at adapting patterns and experimenting. I decided I was going to see what kind of increases worked well to get a sock that fit my calves as well as my itty-bitty feet.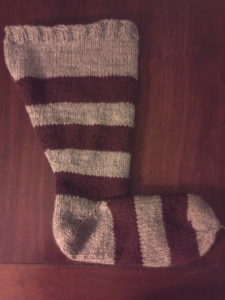 These socks (more properly stockings) were the experiment. I made them from left-over worsted weight yarn I had lying around.
They didn't stay up. That's okay. I made sock garters. But even so… I prefer socks that stay up, and maybe aren't quite as thick.
Deciding I had the general idea down, I used some more expensive fingering weight wool to make the next pair of socks. I like these a lot. They fit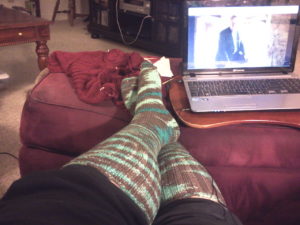 great.
They also don't stay up too well. Again, sock garters. Hey, I did it when I was a Brownie, I can do it now.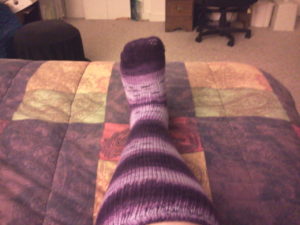 For my next attempt, I made some knee socks with sewn-in elastic. These socks aren't wool, but microfiber.
Sorry. For all that synthetic materials have their place, it isn't the place for keeping the feet properly and comfortably toasty. Wool is better.
The sewn-in elastic is okay, but not my best preference.
T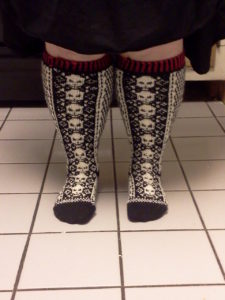 hese socks… Now these make me happy on a bunch of different levels.
They stay up, for one thing! I did a serious decrease the top before I started the ribbing, and that worked out really well.
The only thing I don't like about them is that the heels and the toes are a little loose. They're knit at a slightly looser gauge than the stranded colorwork pattern. I've created a pattern for another pair very similar in design to these using a spider motif (I'm calling them my Anansi Socks. I just need to figure out how to incorporate a web design in the calf increases) and when I do the toes and the heels, I'll just go down a size on the needles for a tighter toe and heel.
I suppose iterative development has its place even in knitting, huh?