We decorated for Christmas this weekend. Yes, it is absurdly early to do so, and in general, I do not like to decorate before December 1. Our son was up for a Thanksgiving visit and we wanted to decorate while he was here.
My Bullet Journal has a note reminding me not to fuss if my husband wants a live tree this year. I didn't say a word about the tree, figuring I'd be back to vacuuming needles out of the carpet and notes to myself to water the tree again this year. In fact, he brought up the artificial tree. I think he wasn't up for the Christmas Tree Hunt and was perfectly content to have a Balsam and Cedar Yankee Candle for scent ambiance.
This tree is one of the ones that comes with lights attached. I love this innovation, as it makes tree set up simple. However, one set of lights wasn't working. My son patiently traced the problem to a missing bulb. He replaced it, and All Was Bright.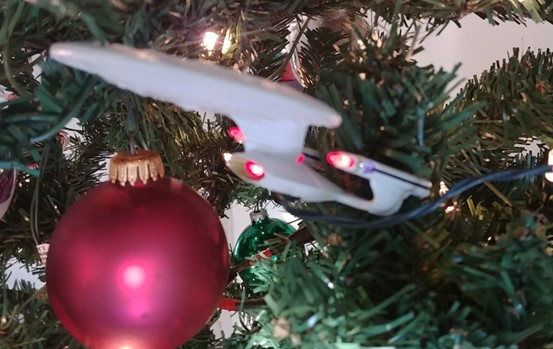 As we started to decorate the tree, we took out one of our ornaments – a model of the Enterprise (NCC1701-D) that plugs in to one of the light sockets, lights up and blinks. As my son pulled it out of the box, we all grinned sheepishly, realizing the reason the bulb was missing.
So, I wrote a note in my Bullet Journal for next December that we needed to remember about the missing light. (Or not be so lazy and replace the bulb when we take down the tree…)
I don't remember things from year to year unless we've been repeating it for decades. If I think of something in January, I don't remember its importance in June.
This has always been a big downfall for me in terms of organizing my life. Make my bed? No biggie. I do that every day. Wash the dishes? Not really going to forget.
But no, it is unlikely that I'm going to remember a tidbit of information that will save us half an hour or so for something I do once a year.
It's not necessarily trying to be "Perfect" or anything. The reality is that perfect can't happen and I don't worry about it any more than I try to flap my arms and fly. Ain't happenin'.
What's nice is that when I lose focus or lose motivation, I don't lose track. If I spend a day not feeling arsed to get something done (hey, it happens) I don't lose a record of the things I really do want to get done. I can have my down day, and when I'm feeling up again, I can get to the things that are important to me done.
This is an advantage over the habit-based productivity systems that I like a great deal. You know the ones where you try to develop a chain of habit doing something Every Single Day or it's All Broken? (Or stick to the diet perfectly or eat a whole box of oreos?) I've tried those systems and they're good for some things. But they don't allow well for the variability of personal energy, mood, or the fact that emergencies happen in life. If you break the chain, sometimes the goal goes bye-bye. (Or, is that just me? I'm far too inclined to binary thinking)
This gives me something to circle back to, whether it's housekeeping tasks, experiences I'd like to have, or just planning for things in life. With my Bullet Journal, I just plain "get around to it" a lot more because I think about what's important to me and write it down.
It sounds so absurd, but it's oddly powerful.
If you've never tried using a Bullet Journal, I highly recommend you looking at Ryder Carrol's video. You'll notice this isn't the art bullet journal you see in Pinterest. This is the system I use because I'm not an artist.