I'm going to tell on myself here. I'm all for the whole frugal cooking thing, bringing your own lunch to work, prepping in advance… All that smack.
I haven't been doing it lately, and when I took a good look at the family budget, I realized that we're buying lunch at work too damned often. I'm not even going to give the dollar figure here, because it's might look trivial to some, but for me it's high enough to be embarrassing.
Anyway, I decided to make up some easy to grab cold salads for us to bring to work. One of them was just your basic chicken salad, which we like a lot. (Yes, not vegan. I know!)
The other one is a Black Bean and Quinoa salad. I'm passing on the recipe because a lot of people are going to parties and cookouts where we might not know the dietary requirements of people there. This particular recipe is not only gluten-free, it's vegan. Me? I'm a total carnivore, but this is still a favorite lunch 'cause it tastes good.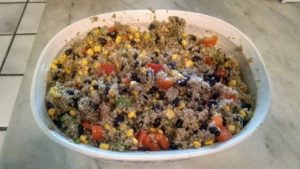 Quinoa and Black Bean Salad
2 c quinoa
15 oz can of black beans
11 oz can of corn
1 large red pepper
¼ c. chopped onion
1 large stalk celery, diced
Salt
Pepper
1 T olive oil
½ cumin
Cook the quinoa according to directions on package. Allow to cool. Mix with salt and pepper to taste, then add cumin.
Sauté red pepper, onion and celery in olive oil until onion begins to become translucent. Stir into quinoa mixture. Stir in black beans and corn.
Chill.