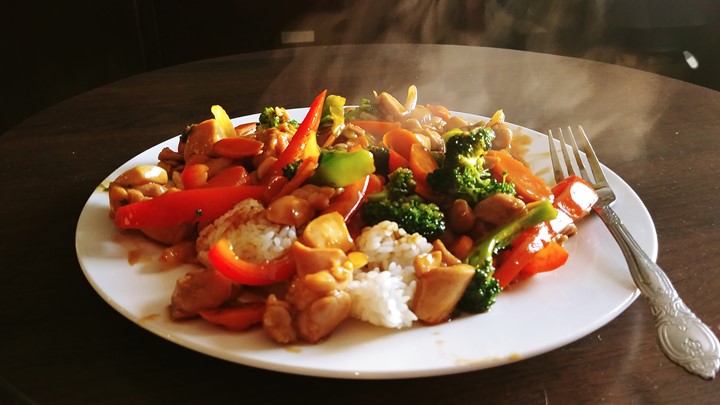 This meal requires a little more equipment than the last few I've done.
To make this meal, you need:
Frying pan
Cutting board
Sharp Knife
A heat source
A way to make rice (I have a microwave rice cooker and a microwave)
Ingredients
Per person served:
.25-.5 lb diced chicken (thighs are good for this and cheap)
¼ c diced onion
1 T minced garlic (I use the stuff you squeeze out of a bottle when space is limited)
¼ c thinly sliced carrots
¼ c broccoli flowerets
¼ c sliced red peppers (In reality, you can put almost any veggies you like in this, but you want ¾-1 c veggies per person)
1/8 c Kikkoman Stir fry sauce (In real life I never do this, but make my own. When I have limited space in a kitchen, this stuff works great)
2T oil. (I use Peanut oil for stir frys in Real Life, but for all-purpose cooking oil, olive works out great)
½ c rice
1 c. water
Cooking the rice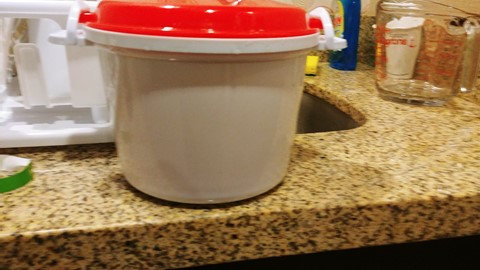 This little plastic microwave rice cooker does the job. Typically, I use two cups of water per cup of uncooked rice and microwave on high for 13-15 minutes. You'll have to experiment with your own microwave, as power can vary.
Stir Fry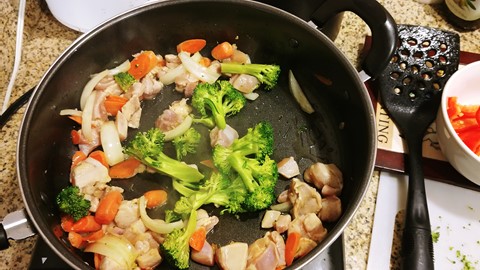 For the stir fry, you heat the oil first, then add the meat and aromatics (in this case onion and garlic. Fresh ginger is amazing in this, but I was being lazy). When they start sizzling (Call it five minutes or so), add the carrots. After a couple of minutes, add the broccoli. I don't like broccoli too tender, so give it about three or four minutes, then add the peppers.
When the peppers are as tender as you like (not very, in my case) add the stir fry sauce. Heat it up for about a minute and a half, then serve over the rice.