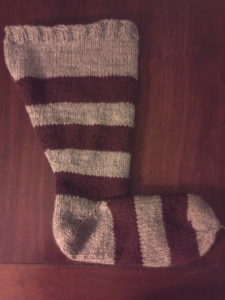 Okay, so I make these knee socks – mostly as an experiment, and to use up some extra yarn I had. I was just being silly and all and figured I'd be wearing them around the house. They're made of worsted weight yarn, and are a lot thicker than you usually make socks.
So, I needed to go to the fabric store to get some elastic to make some sock garters. I went wearing these under a skirt.
Holy-moley. These suckers are warm! So much so that I'm going to make another pair out of some more leftover yarn I have. They're awesome. I mean, we're talking New England winter here, but a skirt was perfectly comfortable outside.
Now, the question is, do I make goofy stripes, or try for a more serious look?