Not sure if I love it…
The dining car experience is fun.  We were informed you WILL make a friend, as it was explained that the seating was group seating.  We knew this in advance, and since we are familiar with the experience from cruises, we were prepared to have a good time meeting some people.
Dinner was with a grandmother and granddaughter duo, and utterly delightful.  The little girl was obsessed with anime, manga and Doctor Who.   She was an absolute treasure and gives me hope for young women everywhere.  I hope nothing messes with her enthusiasm and obsessions.
The grandmother was an artist.  They'd visited DC and were really enthusiastic about the museums and tours they enjoyed there.  It was neat to get impressions of DC from a non-local's eyes.
So, the vaunted Amtrak food by award-winning chefs?
Um, no.
Don't get me wrong, the food isn't necessarily bad (though microwaved "mixed vegetables" reminded me of why I didn't get into veggies until I was in my thirties)  but it's really kind of bland, standard American fare that makes me think of the old Howard Johnsons back in the day.  To give them credit, the steak was indeed well-prepared, and the cheesecake for dessert was tasty.    But I'd just spent a week with my family, and we tend to be more adventuresome cooks.
After dinner, we hung out in our room, watching the scenery.  This part?  I've been told the leg between DC and Chicago isn't really all that interesting.   If that's so, I expect to be blown away by the western leg of the trip, because I really enjoyed what I saw.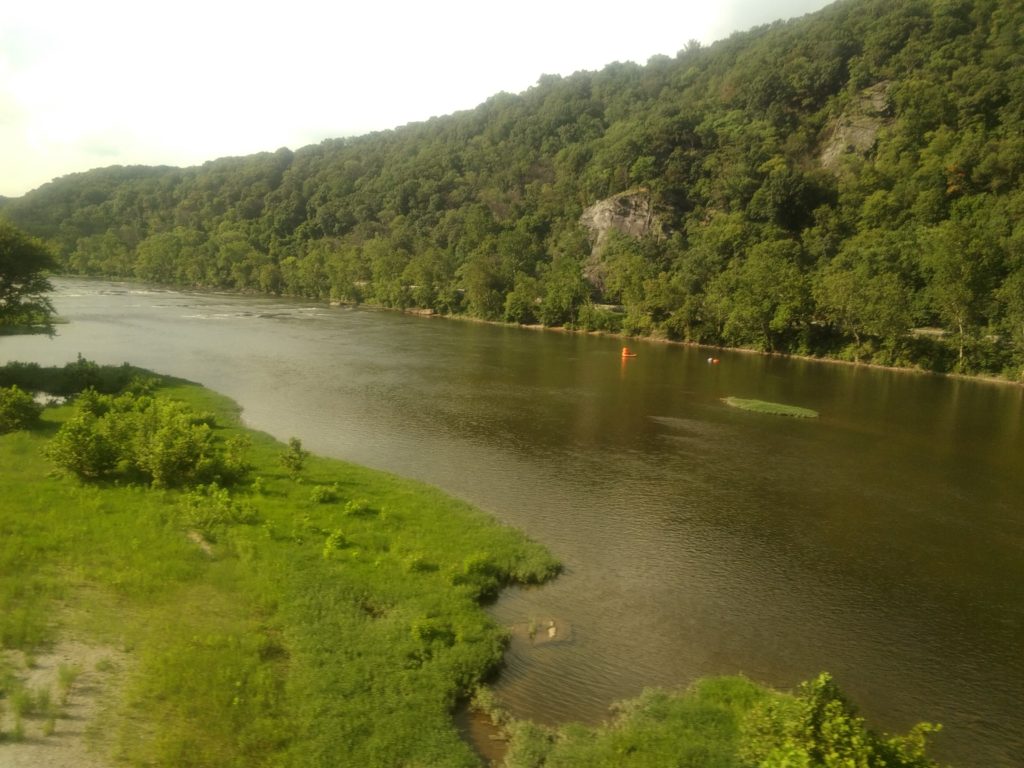 Two people in a roomette is cramped for some things, and perfectly comfortable in others.  During day mode, it's fine.  There's a comfortable table between two ample seats, your own private viewing window and it's quiet and peaceful. For anyone used to traveling coach who has had to endure some yutz having a five hour conversation with their ex husband's new wife (I swear, I am going to use that material for a trashy novel under a pseudonym), you will find the quiet and privacy of your own room a thing of beauty and joy.
Sleeping?  I made a couple of mistakes — the first being simply to go to bed far too early.  When you wake at night on a train (and I wake at night a lot) there's not a lot to do.  Sitting up and reading in a roomette isn't really comfortable.

I woke quite early and got in a shower while there was sure to be no line.  Showering on a train is really about like showering on a cruise ship, so I was comfortable with that.
Breakfast was nice, but it's hard to mess up breakfast.  We ate with two other men, each traveling alone.  One seemed to just about live on the railroad, and loved long-distance trips.  The other was a long-distance train novice like ourselves.
Conversation was interesting with this one.  My husband was asked what he did for a living, and some chit-chat.  No-one spoke to me. It was weird, but my mind was mostly on Chicago and our next leg, so I returned the favor and ignored them.