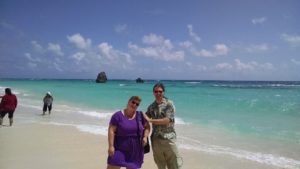 We got up and had breakfast in the Windjammer again — time constraints, you know. Then we got on a bus to tour the whole island for a five-hour tour.
Our guide was a K-9 police officer named Andrew Rollins. He was a mellow, affable man who knew the island very well. His wife was a fourth grade schoolteacher, and in fact had started on her first day of school this year. We started the tour at the dockyard, and he mentioned that the prison was right there, holding about 100 inmates.
Both of our guides seemed a bit annoyed with the leniency of the Bermuda prison system. While I expected that in a policeman, it was a bit surprising in our other guide.
Then we got out on the island and started moving towards Hamilton. As we did so, Andrew talked about life in Bermuda. He explained about the government, the jobs people really wanted to get (government jobs like teaching and such were considered among the best because of good benefits). He talked about how the roofs have to be white limestone, and that this is how they catch rainwater for all the island's water needs. Each house has a water tank of their own. If they run dry, it's about $90 per $1000 gallons to fill it up. So if a Bermudan apologizes to a tourist about the bad weather if it's raining, they're lying. Inside they're celebrating their water tanks filling up.
We had a stop in Hamilton, but it was really short. We really didn't get to look around. It's quite a small city – probably smaller than Lebanon , NH. But there were lots of shops and things. Prices are high in Bermuda — especially the food. Everything has to be shipped in from elsewhere.
He talked about the schools and the school system. Understandably, since his wife is a teacher, he is quite proud of their public school system. He has two college age daughters and they're going to college in England. (I used to have a friend in college at ODU — T.C., who was from Bermuda. It was interesting to see where he came from and how life was in his home. I have to wonder what he's up to now)
After we left Hamilton, we made our way to St. George and saw a replica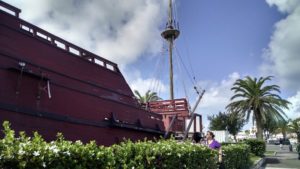 of the Deliverance, one of the ships George Somers' crew made after the wreck of the Sea Venture. To give you an idea of how insane/desperate/brave these people were, the Deliverance was only about 57 feet long, and sailed from Bermuda to Jamestown.
That was really cool. We also wandered around St. George for a bit. I was trying to find some sort of Sea Venture memorabilia, but it wasn't happening.
After St. George, we went to St. Catherine's beach to see where the crew of the Sea Venture came ashore. That was also something that really moved me.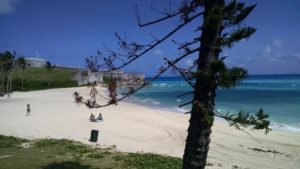 After that, we went to the Gibbs Lighthouse. The view was amazing.
All in all, we were very glad to have taken that tour, but I was quite sorry to leave. Peter and I both have fallen in love with Bermuda and want to go back — just for a trip.
We boarded the ship and hung out topside as it sailed away from the dock. I felt sad to be leaving Bermuda.
Dinner was back in the dining room (thank goodness) and we enjoyed our new tablemates. It was a mother and daughter group – Mom being a crisis communicator and daughter a designer who creates device-independent, HTML supported email from Orbitz. (Device-independent design is harder than you think! I learned that on a project last year!) Peter had the lamb, and I had the sole, but it wasn't really all that spectacular. I think at least in part it is because my stomach was flaring up, so food wasn't much of a pleasure.
After dinner, we hung out at the piano bar for a bit, had a Dark and Stormy, and then went to an adults only comedy show by Michele Balan, whose bit revolved around being menopausal and the annoyances of aging. I thought it was really funny. I also thought that a lot of the parents on the cruise were idiots for letting their kids go to it. Some seemed a little offended, but give me a break. If a cruise puts Adults Only on something, maybe it's a clue you shouldn't have your ten year old attend, just sayin'.
After that, we went to bed griping because the next day was going to be our last day. We didn't want to think about the end of the cruise!