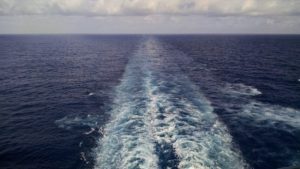 I got up very early to see the sunrise. Thing is, it was quite overcast, so what I really saw was that amazing backlit effect you get when clouds glow at the edges in gold and red. I often wonder why the expression for things not being so bad is "Cloud with a silver lining." When you look at the sky, the lining on the clouds is gold.
It was pretty windy as they were calling for thunderstorms that morning, but the seas were pretty calm and the rocking of the ship was gentle enough to remind you that you were on a ship without making you have to grab things to walk along.
We had breakfast in the dining room with some other people — a couple from the Midwest and a couple from Florida. They struck me as kind of typical examples of their type. Over-privileged, picky and demanding. It was kind of weird, but it seemed like complaints were a common theme as a conversation starter the entire cruise. Ah well, it gave Peter and I something to snicker at.
But the food at breakfast was good. I had a mushroom and cheese omelet and Peter and Peter had Huevos Rancheros.
After breakfast, we mosied around the ship for a bit, and then went to a lecture about the different shore excursions available on the cruise. Peter wanted to change around what I'd reserved online before the cruise, and it was totally easy to do so, and in retrospect, it was the right call. Ultimately, we settled on a Segway tour of the Naval Dockyard, a nighttime glass-bottom boat tour and a minibus tour of the whole island. The excursions desk was staffed by some really patient and friendly people. I was impressed.
We also checked the gift shop. We've made a custom of buying a Christmas ornament of every cruise ship we've been on. They're typically little gold-plated models of the ship. We've joked at in twenty years or so, our whole tree is just going to be ship ornaments. However, the gift shop was out! We decided this wasn't a bad thing, though. It would give us the customary complaint conversation starter and we could act all indignant and horrified about it.
We had a private table for lunch. Peter had lamb tandoori and I had salmon in an orange sauce. Dessert was rum cake and it was all very good.
After lunch, we took a lesson in salsa dancing. It was fun and Peter acquitted himself very well, even if he felt insecure about dancing. While we didn't really wind up using the lessons, I think we could do fine if we find ourselves in a situation where we needed it. I'm trying to figure out if there are some ballroom dancing lessons available locally. *grin*
Then we went up to the solarium to hang out in the pool, cool off and nap on deck chairs. This is a perfect way to spend an afternoon on a ship and we enjoyed ourselves immensely. Like many cruise ships, it did have a soft serve ice cream machine and yes, we had a cone most days! The solarium was the grown-ups only pool and lounge area. It was quieter there, without the music blaring so loud. It was more that than any desire to get away from kids that we hung out there. Being in early September, most of the children on the cruise were under school age. And to be honest, either well-watched by their parents or extraordinarily well-behaved. I only recall one meltdown, and that was leaving the ship. I would have done the same if I were three!
I do reflect on something about cruises, though. Now, I've had the opportunity to party with some pretty heroic drinkers, and I live near Boston, a somewhat sauced-up city. It's just that… Dude, you're paying between 8-12 bucks for a drink. There were people who really did just about the entire cruise drunk, and even our dinner companions once talked about a four figure liquor bill on a cruise. I'm no teetotaler, mind. I likes me a drink. But daayyyyum.
I'm not criticizing. Not at all. I'm thrilled that people do this on a cruise. Why? Totally selfish, but it keeps the price of my cruise down. So for everyone who was maxing out their credit cards at the bar, thank you for the cruise discount. It was lovely.
For dinner, our companions were the same, and they were kindly and jovial enough. I had the duck, and Peter had the same. He had a banana and melon soup with rum that he really liked, and I had scallops for an appetizer and we had cherries jubilee for dessert.
After that, we went to a show with Bobby Arvon, the guy who wrote and sang the theme for Happy Days. It was different from the usual hits reviews we see in cruise ships. After all the hard work of relaxing and eating delicious food all day, we were utterly worn out, so we went to bed.