We got up to have breakfast in the Windjammer buffet before we watched the ship dock. The food is good at the buffets, but I am partial to the dining experience. We just wouldn't have had the time to have breakfast in the dining room if we were worried about seeing the docking. And we were, so we did. While it was really windy, it was still a nice day.
We left the ship at about ten thirty and wandered around close to the ship before our Segway tour. I tell you this; the dockyard in Bermuda is really refreshing compared to the incredibly aggressive salesmanship you see in Nassau. The people are more laid back, which is nice.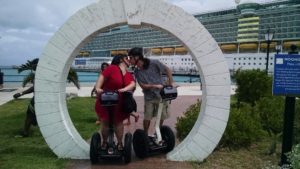 We had a blast on the Segways! It takes about ten minutes to start feeling really comfortable with them. After that, using one is just plain intuitive. You almost think you're steering with your thoughts. We got a look at the outside of the Naval Museum, as it was closed. Ah well! They celebrate Labor Day in Bermuda just like in the States. Then we went by a moon gate and had our pictures taken. (Couples kissing under the Moon Gate is supposed to be good luck, so of course Peter and I did). Then we went out toward the old prison, and heard the history of that before our guide Deesa took the regulators off the Seqways so we could open up to full speed. At first, I was scared going on the narrow Bermuda roads, but there wasn't much traffic. We rode by a couple parks (beaches) some cottages, retirement homes and several people who knew our guide greeted her, including her Aunty. I enjoyed how friendly, mellow and laid back people seemed to be. It is different from some descriptions I've heard of the place, but maybe the fact it is a holiday has something to do with it.
We stopped by Glass Beach and Peter picked up a piece of sea glass for me that looks like a dragon's scale. Deesa seemed to be into plants and stuff, and was pointing out not only the plants but also some of their medicinal (or not!) uses. There's a plant called "Match me if you can" that seems to be a cure for everything from arthritis to asthma on the Islands. Our tour guide the next day talked about his mother treating his asthma with it as well.
One of our party was really afraid when he first got on the Segway, and we heard him muttering the Litany Against Fear. I bit my lip but internally was thinking, "BUSTED!"
After we got back from the tour, we hung out on the ship for a bit and had a very late lunch.
Then we hung out at the pool for a bit and I got some reading in. While we would have liked to go to a beach, it would have taken more time than we had to get our stuff, walk to the beach, get back, shower, have dinner and then get to our glass bottomed boat. We'll hit the beaches the next time we go. Yes, there will be a next time!
We had dinner at the Windjammer and I certainly ate too much and was utterly miserable afterwards. But the glass-bottomed boat tour was fun. I am glad we did it at night. We saw the wreck of the HMS Vixen — an ironside ship from the late 1800s that was sunk to try to block a deep channel. However, the bow kept sticking up out of the water, so it wasn't as good of a trap as they'd hoped for.
We learned that while coral reefs are dying off, we're learning that sinking iron and steel structures are very good for rebuilding them again. As iron rusts (Oxidizes) it gives off oxygen that really encourages reef growth. This technique is being used around the world to try to rebuild dying reefs.
After that, we hit the hay pretty hard.