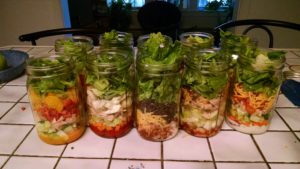 Ever one to try to experiment with a trend, and never one to be hip enough to be ahead of a trend, I am experimenting with Mason jar salads.
I tried them last week and they were wonderful. The lettuce stayed crisp and even though I made up a bunch of them Sunday night, the last ones to be eaten were still fresh and delicious come Friday lunchtime. The ease of just grabbing a jar for lunch was a thing of beauty and delight.
And… I like salads, okay?
Just for kicks, I figured I'd try and experiment with various flavors for this week. Anyone who says salads are boring lacks imagination in my opinion. You can do a lot with them. For those of you who think you might like to try these out for yourselves, I'm going to give the recipes.
The key to having a Mason jar salad work out is all in the order you fill the jar. No, it's not just about pretty layers of tasty food color that looks great on camera. Nope, this is where beauty meets function in the best of ways.
To make a good Mason jar salad, you need to start with the wet stuff. Dressing, or whatever. Then you add the hard veggies that can stand up to a marinade for a long time in the jar. Think carrots, celery, or cucumbers. What you want is something that is going to absorb the flavors of dressing well. After that you can add your protein. Meat, beans, grains or cheese, anything you like in a salad goes in this layer. After that? Stuff in your lettuce.
When it comes time to eat your Mason jar salad, you have a couple of options. Some people prefer to dump them in a big bowl or on a plate. Others like to eat the salad straight out of the jar. I fall in the latter camp, but it is admittedly harder to mix up the ingredients as well that way without making a mess.
Either way, they're quick to make, and easy to have on hand for a delicious, healthy lunch that is a grab on go meal for the summer.
For all recipes, just fill the jar with the ingredients in the order stated. I have no idea the nutrition information, but you could run it through MyFitnessPal easily enough if you care. I don't. I don't give amounts, either. Wing it! Live a little. Experiment. You really don't want more than two or three tablespoons of dressing, though, unless you like a soggy salad.

Asian-inspired chicken salad
Ginger-orange dressing
Carrots
Celery
Chopped Cucumber
Diced red pepper
Cooked, diced chicken breast or thigh.
Mandarin Orange slices
Lettuce
Chicken Caprese Salad
Olive oil and Rosemary Vinegar
Carrots
Celery
Chicken
Mozzarella Cheese. The real stuff that they sell braided with some chopped basil
Fresh basil leaves
Sliced black olives
Lettuce
Kinda Mexican Chicken Salad
Sour cream
Salad in the level of hotness you like
Cherry Tomatoes
Chicken tossed in Chili powder and cumin.
Shredded cheddar cheese.
Black beans
Lettuce.
Apple-chicken I Just Made It Up Salad
Raspberry vinaigrette
Diced apples
Diced celery
Diced cucumbers
Chicken
Shredded cheese
Pecans
Dried cranberries
Lettuce
Bog Standard Chicken Lunch Salad
Caesar Dressing
Cherry tomatoes
Carrots
Celery
Diced red pepper
Chicken
Cheese
Lettuce