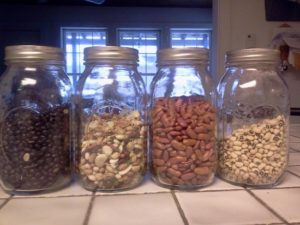 We're expecting a snowstorm here where I live and it's coincided with time for a big shopping trip. No, we didn't go shopping for Snowmageddon. But I did get enough materials to make a bunch of freezer meals for the household.
I like this a lot better than Once a Month Cooking, I have to admit. I guess I just like things cooked reasonably fresh in the crock pot.
But one of the big reasons I've been keeping on with doing it is that my husband is fond of it. I was away from home last week, and those freezer meals made life a lot easier on my husband and son. Oh sure, both of them can cook a meal just fine, but when you're gone all day, there's nothing quite so nice as dumping a meal in a crock pot in the morning and coming home to it being cooked that night. Anyone who is busy loves a home-cooked meal they didn't have to prep while tired, after all.
I've been trying to come up with about fifteen different dishes so that I can have a month's worth of meals in the freezer, if I do two each. I didn't quite manage it, only coming up with ten. But I'm pretty cool with that. That's still twenty meals squirreled away that I don't have to spend a lot of time on during the day.
This has been saving me an enormous amount of money. I'm a little surprised, as I thought I was careful – buying meat on sale, meal planning to sales, buying whole chickens, you name it. The only thing I can figure is that I am more organized and take fewer trips to the grocery store. You do spend less money the fewer times you approach the cash register, I do know that!
Though as I think about it, many of the recipes involved beans, so I'm not buying as much meat, and I'm still getting reasonably hearty meals. They're great in crock pots and are very inexpensive, especially the way I buy them. Dried beans in my area run about a buck fifty a pound. Cheap, cheap, cheap, as that yields a whole lot of beans. They're not too hard to deal with, either. If you're used to canned beans and want to try dry beans, just remember a half a cup of dried beans cooks up to about a 15oz can. Throw 'em in some salted water, bring to a boil and simmer for an hour or so while you do other stuff, then they're all ready to add to the freezer recipes.
And because every time I talk about freezer meals, someone asks for a recipe, here's mine for chili. Or at least, I do this sometimes when I feel like it. (In reality, I follow whim when making soups and stews).
Noël's Occasional Freeze-Ahead Chili
1 28oz can crushed tomatoes
1 lb hamburger, browned
2 cloves garlic, diced
1 c. diced bell pepper (color doesn't matter)
1 jalapeno pepper, chopped (if you like it spicy. If not, leave it out)
1 small onion, chopped
2T. Cumin
1T. unsweetened cocoa powder
2t. black pepper
2t. salt
½ c. dry red kidney beans, cooked (yield cooked will be about a cup and a half or so) or 1 15 oz can red kidney beans
(optional) ½ c diced carrots. This is good if you're trying to sneak vegetables in on picky eaters.
Throw in a gallon freezer bag, and freeze. Thaw out the night before you want to cook it and throw it in a crock pot. If you have any red wine or beer (especially a dark ale) on hand, throw a half a cup or so in with this and then cook on low for 6-8 hours. The alcohol isn't absolutely necessary, but it gives it a nice flavor.