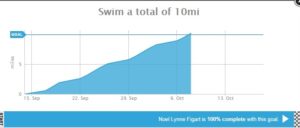 I've got a goal this year of reducing my swimming time from around a mile in 56 minutes to a mile in 40 minutes. I'm doing it because you should be able to do that comfortably in a pool before you start doing open water swims.
Swim workouts, like any workout with athletic improvement in mind, need to have some changing up component to it to keep the body challenged. If you do the same thing every time, it becomes a lot easier. Easy is often a legitimate goal, don't get me wrong, but that's not my particular goal.
So, I do some things to ensure changing up. Swimming sees its best improvement when you swim intervals. This means you'll swim a distance as hard as you can, then another distance at an easier pace, switching things up throughout the workout. Yes, even marathon swimmers do this to train, even if steady is the goal when they get out on the open water.
For the past couple of weeks, my workout was either 1,000 yards or 1,200 yards swum in units of 100 yards with a length of breaststroke up, then swimming crawl back, then breaststroke up, then backstroke back. I'd sprint for the crawl because it's a fast stroke.
As an aside, no the stroke is not actually freestyle, even if people often call it that now. Freestyle is an event in a swim meet, not a stroke. It is called freestyle because you are free to swim any stroke you wish. Most people choose the front crawl because it is the fastest stroke.
This was brought home to me when I was about six or seven at a swim meet. The event was the 16-18 year old men's freestyle. We were swimming against a team that wasn't quite as competitive as we were, and the Romagnoli boy swam the event *gasp* butterfly! The younger kids, including me, were freaking out, thinking that he'd be DQ'ed (disqualified) for swimming the wrong stroke even if he DID come in first, when the coach laughed and pointed out that freestyle means you can swim any stroke you want. Butterfly was a bit of a risk for the event, but he was very strong fly swimmer. Why not go for a challenge?
So, the stroke that you think of as freestyle is really the front crawl, 'kay? And it's a LOT faster than other strokes.
Those sets I was swimming, breast, free,* breast, back?
Today I decided to switch it up and swam free, breast, free, back. Instead of half my distance being breast stroke, half my distance became the front crawl. That 56:30 mile I've been side-eyeing? Today it was a 52:11 minute mile. (That was my pace, mind. I didn't swim a whole mile).
So, why not just switch entirely to freestyle, right?
Wrong.
I could, but it wouldn't be a great idea. That's asking for a shoulder injury, and I'm not just doing this to get faster. The real reason my butt is in the pool is to get an efficient workout (swimming is good for cardio and full-body strength), and switching up the strokes means I work different muscle groups.
The other reason? That's a little more embarrassing. I can do about 100 yards of the crawl before I get tired. The plan is to start working up to longer and longer distances of a single stroke as I get in better shape. My sets will stop being essentially a length of a particular stroke as I work up.
But there's a lot to be said for essentially sprinting a length, then swimming another a slower stroke and alternating. That's good, solid interval training, after all.
I also reached a goal today. I'd decided to try to swim ten miles in thirty days, and reached it about seven days early. I think my next goal needs to be a tad more ambitious. Since I swim a bit over half a mile a day, I think I'm going to make it a goal to swim 15 miles in the next thirty days. That's more or less presuming I stick to my usual schedule, and a little bit over, so that I am going to have an impetus to bump up my yardage per workout in the next week or so.
Anyone else have any goals — fitness or not? I'm curious what people are challenging themselves with!
________________
* Yes, see, I think of it that way, too!