Last year I had a health scare with a lifestyle component. Never mind that there's a genetic component. Health problems are All Your Fault, and you're a lazy bad person for having them, right? Healthy is for the virtuous, and we all know that people with illnesses get them because they're all bad and stuff, right?
*sighs*
Did I Change My Lifestyle to Manage my Blood Glucose Levels?

I did make a couple of changes and did get my blood sugar under control. I dropped an a1c reading from 6.0 to 5.5 using two things: a ketogenic diet and an average of 45 minutes of moderate exercise every day. I took this figure from my fitness watch and just took a straight weekly average of how many minutes a day, I got my heart rate into the aerobic range. So… pretty accurate for how much I move.
All this work didn't make me skinny. Not even close. While the weight loss was significant, I'm still well into the plus size range. But the goal was never to get skinny. The goal was to manage my blood sugar, and I did.
You can manage some health issues with diet and exercise, yes. If you're willing to let your life revolve around it. Know what? I have the luxury of the time and money to do that.
My Life Revolves Around My Health

Is a ketogenic diet a time-consuming, expensive pain in the ass?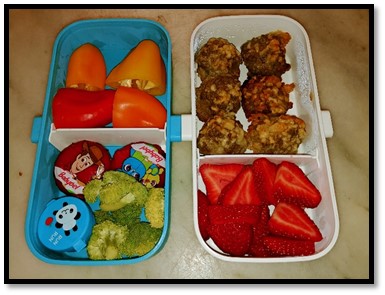 Yes. Yes, it is.
And, no. No, it isn't.
I mean, the food is tasty. I like bacon and eggs. I enjoy salads. I love a good steak. Strawberries and real whipped cream? Bring it. I like nuts. So, as far as enjoying my meals, heck yeah, I do! I might want to snack sometimes, but I'm not dealing with actual hunger.

However, I've had to resurrect my bento hobby and adapt it to my diet. See, whenever I'm out and about, I cannot count on a satisfying meal, or need to pay for a really expensive one. Not much in my diet besides nuts is shelf stable! (Most of those "meal bars" marketed as low carb aren't. At least according to my fasting blood sugar readings!) That drives the price of "convenience" food up. Sure, sure, I can buy boiled eggs and cheese or something, but wow, at over a dollar an egg, I'm better off planning and making a bento. Honestly, this hobby is a lot of why I can tolerate eating a ketogenic diet.
It also changes how I interact with travel. Bento are great for travel – sort of. Taking a trip on an airplane or a train, it's nice to slip a bento in your bag and go. But meals out become incredibly expensive, and you're always wondering how much sugar is being used even in meat sauces and marinades. Cruises? You can handle it, but you can't just, you know, eat a meal. You need to talk to the waiter to make sure what you're getting is okay for you to eat, and you need to be careful about hidden carbs at the buffet. Theme parks? You can get hot dogs and hamburgers without the bun, sure. It's also really expensive. Simple carbohydrates are cheap calories, after all. I don't say this to snark it. I have a whole nother rant on why the abundance of calories isn't the daggone evil people like to put it out to be, but that's for another blog post.
Anyway, even though a ketogenic diet is more expensive, I suppose it's cheaper than insulin. But the reality is that insulin may need to be a thing in the future. I'm doing what I can, but at a certain point, one's genetics does factor in.
It'll be blamed on me not being skinny, of course.
Is Daily Exercise a Time-Consuming, Expensive Pain in the Ass?

Yes. Yes, it is.
And, no. No, it isn't.
Forty-five minutes a day is a lot of damn time. I'm doing it and to be frank, I'm glad of my fitness watch, as it means that I can wave the data under my doctor's nose as proof that yes, I'm exercising at recommended rates and intensity, and I'm still not getting skinny.
It's still a big chunk of my day.
A short workout is half an hour. On busy days, I'm up at five in the damn morning to get that walk in. Unlike a lot of people, my treadmill was a wonderful and frequently used purchase, even two years later. Expensive? Yeah. I could go outside. Except I live in Northern New England. I don't like to walk in bad weather and generally won't. It's very hard to talk yourself out of a half hour walk on a treadmill in front of your bedroom door.
A longer workout is a swim. That's a minimum of an hour in the pool, but you have to add a minimum of a half an hour on either side to get to the gym and clean up after the swim. Expensive? Yes, gyms with pools are expensive. I genuinely enjoy swimming, but the way I go at it is most certainly because of the need to get in large wodges of exercise.
Do I ever take long walks? Sure. I live near some amazing trails, and my husband and I often take an hour for a nice long walk. I find this a somewhat less… irritating use of my time. Hanging out with my husband is important, and a walk is a way I enjoy doing it.
It's still all about managing my blood sugar. If I skip a day, my fasting blood sugar spikes a couple of days later. Almost a direct correlation. It's why I continue to exercise.
Oh yeah, I check my blood sugar every morning.
Concentrating on Health is Distracting

I can't just… have a meal without thinking about it most of the time. I've always been in the habit of meal-planning and cooking, and thank goodness for it. I don't know how someone who didn't plan and cook a lot would handle this.
How am I going to get in my workout today? That's a consistent question. I know, the idea is that you're supposed to do it just like brushing your teeth. I don't. *shrugs* The reality is that I don't have a consistent schedule.
Here's the thing: The mental energy that it takes to get me eating and exercising according to my health needs is mental energy I do not spend on family, work, creative projects or other things. That's real. Perhaps there are people who have unlimited mental energy for all this. The very real reality is that I don't. If I were in a survival situation of some sort – rotten family dynamic, job insecurity or anything like that, I don't know that I could do this.
I can see easily how diabetes can be poorly managed from a lifestyle point of view.
So, the smug health-is-a-virtue jerks can suck it.