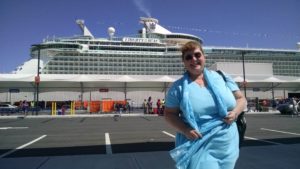 I didn't sleep too well the night before we left, as I was too excited about getting on the ship. We'd packed the night before and drove down to Boston so that we could fly to Newark, and then get to the ship. It was really smooth — from the flight to the ground transportation.
We forgot that we're "gold club" member of the cruise line we went on, so we didn't get in the expedited boarding line. While it probably would have gotten us on the ship an hour earlier, we got on late enough that we didn't have to wait around before we got to our cabin.
We're cheap. We got an inside stateroom. Are they small?
Yeah, and so? How much time do you spend in your room on the cruise? More than that, why would you want to? As we were hanging out on the cruise, it did seem there was something of a King Julien attitude towards whether or not you'd had a balcony, but whatever.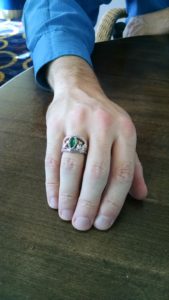 Before we went to lunch, however, what with it being a cruise to celebrate our 25th anniversary and all, I did get Peter a little present – the Ring of Barahir. Silver anniversary; silver ring? Peter had mentioned he'd love that ring one evening as we were watching Lord of the Rings, so hey, why not?
After that, we started wandering around trying to get lost and exploring the ship.
This habit dates back from my very first cruise when I was fifteen. Daddy told me that it was really important to roam all over the ship to get to know it well. So, I've always made it a first day ritual on any ship on which I cruise. It's part of the fun.
Then about an hour before we set sail, we had the standard muster drill. I paid attention even though the thing never changes. I guess I was a Girl Scout for too long to ignore the safety lecture.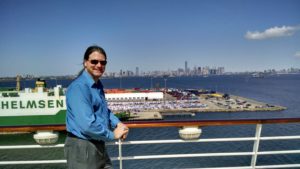 Peter wanted to watch Manhattan and the Statue of Liberty go by as we set sail, so we hustled up to the top deck and snagged some chairs on the port side to settle back and watch the city glide by as we left port.
It was wonderful.
After that, we soaked in the hot tub for a bit for a pre-dinner soak then got ready for dinner.
The dining room was nice, though I thought our waiters, Jesus and Robert, were a bit new. I had a fish appetizer that was truly out of this world, followed by a prime rib. Peter had the seafood spaghetti.
Our tablemates were a couple from Connecticut who did a lot of cruising. So, we asked them about Bermuda, and that wound up letting us enjoy our dinner without having to reach much for a subject of conversation.* We had a good time talking with them.
After dinner, we wandered the ship a little but went to bed fairly early as we were done in.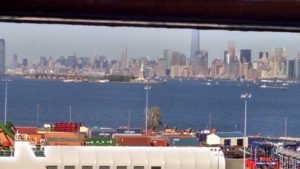 ____________________
* Note for the socially awkward: if you can find a subject on which the person you meet has the slightest expertise, get 'em talking about it. You can enjoy your dinner in peace without casting around for conversational subjects.