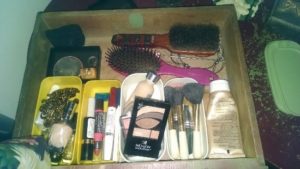 More in my decluttering saga using the Konmari method.
First of all, Komono and Kimono are different words. Kimono means clothes. Komono is miscellaneous stuff.
So, I've finished sorting my clothes, books, and papers – including shredding things with personal info on them. Next is Komono. This is actually kind of a large category because it includes household items, valuables, craft supplies, stuff for hobbies, office supplies, electronics, and kitchen items. Mostly, it's anything left that is not a sentimental item.
Yeah… This is going to take a while.
While technically skincare products were supposed to be a single category under komono, I combined it with bathroom supplies in general because while I wear makeup, it's kind of like my clothes. I keep it kinda minimalist.
Or so I thought. I took everything out of the bathroom cabinet and out of my makeup drawers, as well as some drawers where I had some nail polish and stuff. I actually filled an entire trash bag of stuff that I no longer need or love.
The image is my makeup drawer. This was after the purge and there was a lot more in it. Stuff that was out of date, colors that didn't suit me, hair ties and hairbands I never used…
When I originally finished this, I did not have dividers for my makeup. One of the things that Marie Kondo recommends is not worrying about buying too much in the way of storage solutions, and that in your decluttering, chances are good that you'll have suitable items already in your house. She was not kidding!
I commented to my husband that I wanted him to be on the lookout for some boxes that were of a certain dimension that would fit inside the drawer to my vanity so that I could organize my makeup a little. He mentioned that when I got to the kitchen that it was likely I was going to discard at least some of the bento boxes that I have. Goodness knows I have some very nice ones, but I also have far more than I need.
*Blink* Well, yes. So I was going to discard some of them. So I took a couple to use as organizer boxes inside my vanity drawer. And by golly if that wasn't exactly what I needed!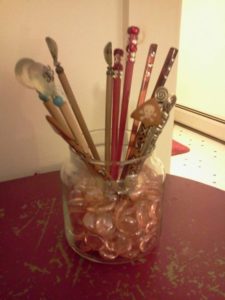 My hair ornaments could fit in a drawer, but I admit I store them in a way that makes me totally happy and I have no intentions of changing it. Know that "sparks joy" thing? My hair sticks bring me joy. Completely. And storing them in this jar also makes me happy.
Remember the whole "sparks joy" thing? That's important to this method. It's not about living in a completely Spartan environment – unless that sparks joy, of course. The point of doing this is to keep what you love and to order your household the way you love.
I was thinking about this as I was comparing what sparks joy for me compared to my mother's house.
Mom is an artist with her home. Anyone who goes to her house always admires it because it's just so pretty. I mean, like really gorgeous in a way that most people hire serious expensive professional designers to get the look, but Mom doesn't need that. She has a great eye and the house is Victorian/Georgian mix that sounds weird, but she really makes work. There are display cabinets full of lovely items, lace curtains, warm, low lighting, and pretty oriental rugs over hardwood floors. It's pretty and so much expressive of her character and tastes.
That's the point. What I'm going for is different. What I want is more like the old Samurai homes. Very, very little clutter around, and beautiful art showcased by great wodges of space. Not that I'm ripping up my carpet and putting in tatami mats or anything. I don't want an actual traditional Japanese house so much as the minimalism as a guiding principle.
Not that this means I am giving up my hutch and china display, mind. I smile every time I look at it, even though it doesn't have that whole Samurai house principle.