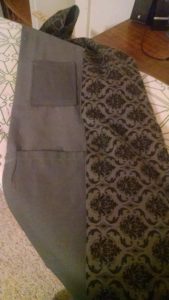 A friend of mine pointed me to the cargo scarf as a possible project some years ago. I'd always intended to make one and I guess tonight was the night.
I love scarves and wear them all the time. I also do not particularly love purses, though I do carry them. While I like pockets, the reality of women's clothing is that if you buy it, you often cannot find any with good pockets.
This is an excellent compromise.
This is just a very long scarf that you can wrap around your neck (or drape around your neckline in my case, as I do not like anything close to my neck) and just wear as if it is a normal scarf. The pockets don't show on the outside.
The instructions in the link I give encourage you to make custom pockets to fit the gear you intend to carry, which I did. I have a pocket for a phone, keys, iPod Nano, and thin wallet.
I was dubious, but after I tried it on, I really like this. I have some jackets and skirts that have no pockets, so the idea that I can have a scarf that's essentially pockets makes me unutterably happy. It drapes well, and lies neatly. You'd never guess that the scarf has stuff in it when you wear it.
It was fairly easy to make. You'll want to buy basic 45″ fabric – half a yard in your fashion fabric and half a yard in your backing fabric. The original instructions encourage polar fleece or some other warm fabric. I just used quilting cotton, as I'll likely wear this indoors quite a bit. Then you just design patch pockets for the gear you want to carry. I suppose given that it is two layers of fabric, you could do welt pockets, but I then the outline of your stuff would show through the single layer of fabric, I think. As it is, it's hard to tell you're not wearing just an ordinary scarf.
The original instructions also called for making a pen holder and adding a d-ring for keys. I was uncomfortable with the key on the outside design, so made it with a pocket for keys, instead.
What I didn't do, and I'm going to have to go back and do, is have pocket closures. I think I'm merely going to get some iron-on Velcro to hold the pockets shut, but you could design the pockets with almost any closures you wanted.
It's also comfortable to wear. While I do own some pocket intensive jackets of various sorts and love them, I also like this as a purse alternative. I expect I'm going to make several to suit various outfits I have.