Happy New Year!
I have hated taking down the Christmas decorations for as long as I can remember. It meant the end of the holidays. It meant that the pretty, shiny things had to go away. It typically meant gray skies (I grew up in Virginia, which is cold and rainy most of the winter) and as I got older, the austerity of New Year's Resolutions in which I tried once again, to be some who actually had her life together.
We always took down the Christmas decorations, though close to New Year's Day. My grandmother used to think it was bad luck for Christmas decorations to see New Year's.  Mom wasn't so fanatic, but we did usually take them down close to then.
So New Year's just meant going back to the damn grind for me.
I'm not doing that this year. While I have goals I want to accomplish, that's not special to January 1. What I am going to do instead is actually decorate for January. No, it's not as elaborate as how we decorate for Christmas, but it is still special decorations and colors.
I've chosen ice colors – blues and whites and crystals for this.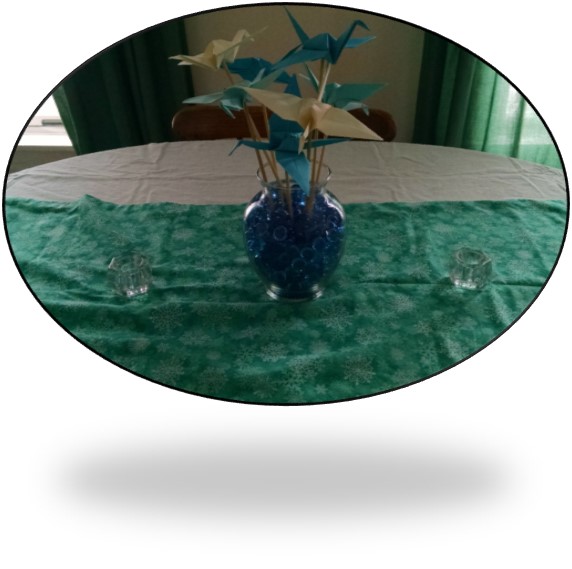 I have the snowflake table runner and the cranes in the glass vase filled with blue glass gems. It's a simple and easy centerpiece to make, and I like it. I'm still waiting for the blue candles that I ordered to arrive, and that will complete the table setting.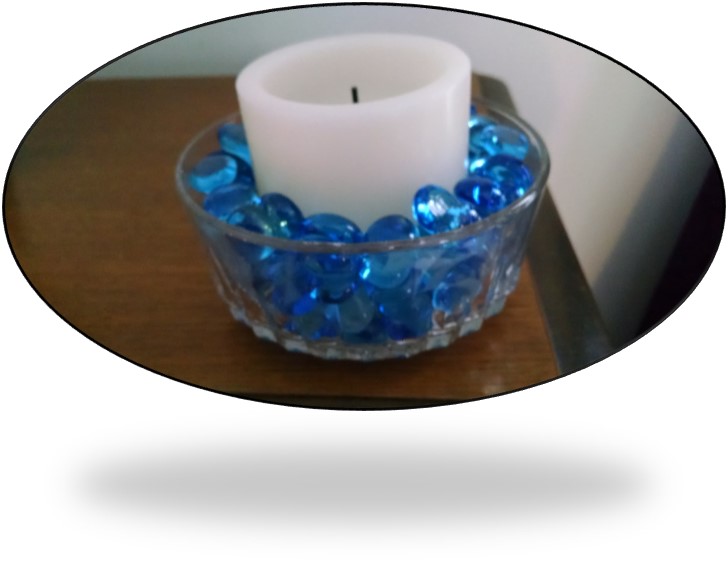 I put some of the leftover glass gems in crystal bowls and put a pillar candle in each one to keep with the theme.
However, I also miss Christmas lights. So, I decided to buy a strings of blue ones to use for the month of January. While the days are lengthening now that the Winter Solstice has passed, it still gets dark pretty early and will for the rest of the month. Once the sun starts setting at five in the evening, I'll probably feel the need for strings of lights a little less.
This really didn't take a lot of money. I did buy the glass gems, origami paper, and the fabric for the table runner, but other than that, I went searching around the house for things I already had that were blue or silver or glittery to get the effect. But I can tell you that you can often find glass bowls at the dollar store, and you can often get pretty fabric fairly cheaply.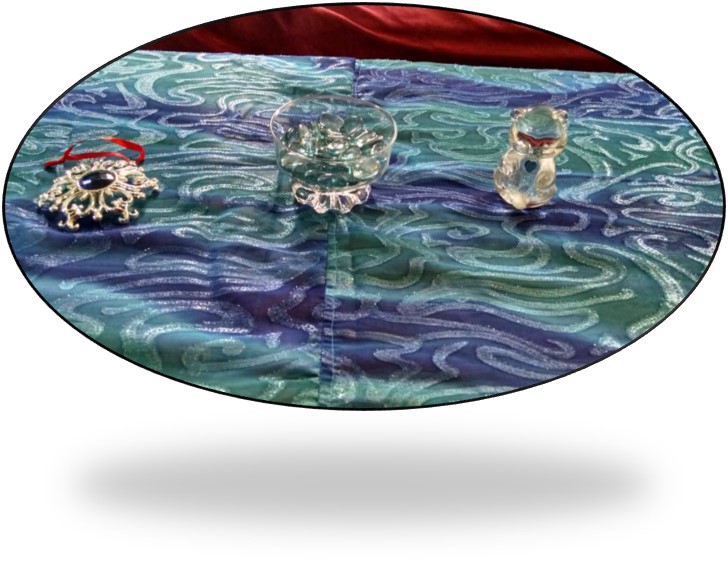 Is this high-end decorating? No, of course it isn't. But that's not the point. In fact, the point is that sometimes you really need to do something special with your environment, and you'll find if you're creative about it, you can do something nice without necessarily dropping a lot of money.
Though am I going to have pork and black-eyed peas for good luck?  Why goodness me yes! We visit my family in Virginia every Christmas, and I'd mentioned that I needed to pick up some black-eyed peas (you can't count on finding them in New Hampshire), and Daddy bought me a bag of them to take home.  So, yeah, making Hoppin' John.