As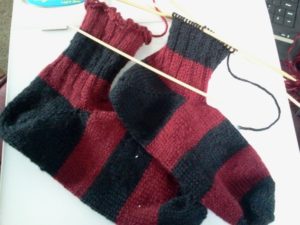 you know, Bob, I'm a knitter and my favorite things to knit are socks and sweaters. Mostly because then I wear them.
I'm knitting the first thing I've knit in a good eight months. A Life-Eating Project seems to have sucked away my mental energy to the point where it was beginning to worry not only me, but my family. I needed to do something at least moderately creative and soothing that would make me feel good without long-term commitment. That meant knitting and it meant a small project.
So, socks…
I'm knitting some basic toe-up socks out of leftover yarn I have around. I have special sock yarn, but this stuff isn't it. It's Wool of the Andes Sport that I have left over from various knitting projects. It's a bit thick, but I live in Northern New England and it's cold. Thick wool socks are nice.
I took the risk on this yarn when my LYS owner commented that she doesn't really bother to buy special sock yarn, but knits them out of leftovers from the truly extraordinary Nordic sweaters she knits. They are thick, but about like hiking socks.
Which, after nearly two hundred words, brings me to the main point of this article.
I ran across a sock-knitting block post by a knitter who cannot bring herself to wear socks often. After cost of the materials (she quoted $20 for a pair of socks) and the time put in, she didn't want to wear them out.
The comments got to talking about how yeah, you can buy a pair of socks at a department store for five bucks, so hand-knit socks are so expensive.
I don't knit to save money. It's a hobby, but a not-too-expensive one for me. I spent less than $100 in yarn last year planning to do a mess of knitting for Christmas presents that never panned out, so I still have a larger stash than is usual for me. The socks I'm knitting now are from leftovers from the two sweaters I did knit and used about two balls of yarn, totaling five bucks to buy.
But if I bought those 100% wool socks, I'm still looking at between $8 and $10 for an inexpensive pair of wool socks. L.L. Bean, my preferred winter gear go-to, charges more.
But after I've gone to all that trouble, expensive or not, darn right I am going to wear the socks I made. Will they wear out? You bet. Socks do. It's the nature of the garment. I'm easy on my socks – wearing slippers in the house rather than just the bare socks, and hand-washing the hand-knit ones. But, I've been knitting socks for eight years. Of course I've had a pair or two wear out.
I wonder why someone would go to the trouble to make them then not use them. What's more of a waste, keeping them in the sock drawer, or enjoying them after you make them?