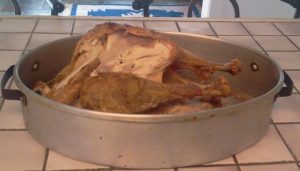 There you are you are faced with leftovers from that enormous bird you bought for Thanksgiving and you just don't know what to do. You like turkey well enough, but good heavens, you don't want to eat the same thing for a couple of weeks. Neither do you want to waste.
There's a secret to enjoying turkey leftovers and I'm going to pass it on to you.
Now, my husband and I were all for a non-traditional Thanksgiving meal, but our son was pretty insistent that we have the traditional meal of turkey, dressing and pumpkin pie. So, being the mean, cruel and overbearing parents we are….
We had turkey, dressing and pumpkin pie.
I'd bought a couple of small pie pumpkins around Halloween, had used one for pumpkin bread and pumpkin muffins. We cooked the last one for the pumpkin pie and had about three cups left over. Some of that is likely to find its way into a soup, but I am seeing pumpkin muffins in our future as well. My son has now learned that making something from fresh pumpkin is pretty easy – chop it in half, scoop out the guts, bake it about an hour, scoop out the cooked flesh and puree. Easy peasy. Nuttin' wrong with using canned, but we just happened to have a pumpkin sitting there.
Because of my habit of being a tightwad, I had considered buying a turkey breast instead of the whole bird. But at price per pound, the whole bird was an enormously better buy. Even though yes, a 12 pound bird was a bit much for the meal, I know how to make good on leftovers, boy howdy let me tell you what. Even so, we don't want to get sick of eating turkey, do we?
What's the secret to enjoying turkey leftovers?
The secret to not getting sick of turkey as a leftover meat, however, is to repurpose it in very flavorful dishes. Sure, sure, a turkey sandwich is delicious, as is turkey salad. But it's just as easy to use those leftovers in other meals that aren't quite reminiscent of the American white-bread meal that is Thanksgiving dinner. You want spices. You want strongly-flavored veggies. You want differences in color, presentation and texture.
The bones are going to go for stock, oh yes! If you've never tried turkey stock, give yourself a treat. It's delightfully flavorful and enhances any dish where you'd use chicken stock. We're not going to do Carcass Soup this year, tasty as it is. Instead, we're going to use the turkey to make a few freezer meals. We'll be doing turkey burritos (my family are crazy for burritos), freezing up some bags of diced turkey for stir frys or the (sorta) Puttanesca, and freezing up some bags of diced veggies and turkey for some delicious soups.
Except for the (sorta) Puttanesca, these are great freezer meals as well.
Turkey Burritos
| | |
| --- | --- |
| 2 ½ c. Turkey chopped fine | 1 can chopped green chili peppers |
| 2 t. cumin | 1 T. minced garlic |
| 1 small onion, chopped | 2 t. pepper |
| 1 t. salt | 12 8-inch flour tortillas |
| 1 can refried beans | 2 c. shredded cheese (preferably cheddar or a mix of cheddar and Monterey jack) |
| Sliced Black Olives | Salsa |
| Sour Cream | |
Preheat oven to 350 and grease large pan.
Sauté turkey with chili peppers, cumin, minced garlic, onion, salt and pepper.
Spread tortilla with ~2 T refried beans, add ~ 2T meat and 2T cheese. Fold sides of tortilla in, and then roll tortilla, being careful not to roll too tightly and tear burrito. Arrange all 12 in pan, and bake at 350 for ~20 minutes. Serve with salsa, sour cream and gorilla nostrils.
If you intend to freeze them, skip the baking wrap well and freeze. When you intend to use them, defrost and freeze according to directions.
Turkey (sorta) Puttanesca
| | |
| --- | --- |
| 2 ½ c. diced turkey | ¼ c. black olives, chopped |
| ¼ c. pitted green olives, chopped | ¼ c. chopped onion |
| 1T chopped garlic | 1 medium bell pepper, chopped |
| 1 6 oz. can tomato paste | 1T capers |
| 2 tsp. dried red pepper | 2 tsp. oregano |
| 1 tsp black pepper | Dash salt |
| 3 T olive oil | |
Set aside turkey breast. Combine all other ingredients but the olive oil and tomato paste. Mix well and let sit to let the flavors marry a bit. Sauté the turkey breast in olive oil, then add the olive, pepper and spice mixture. Sauté until the onion is translucent, then add the tomato paste. Turn to low and cook for about fifteen minutes. Serve over pasta.
Turkey Pot Pie
For pie crust:
| | |
| --- | --- |
| 2 c. flour | 1/3 c. shortening or butter |
| 1 t salt | 1/4 c. cold and I mean icy water |
For Filling:
| | |
| --- | --- |
| 2 ½ c. shredded turkey, cooked | 2 ½ c. mixed veggies (or one can of Veg-all) |
| 2 cans of cream of mushroom (or celery) soup. | |
To make the Pie Crust:
Combine salt and flour. Cut in butter or shortening until fine. Add cold water slowly until a stiff dough is formed. Divide dough in half. Roll each half in a 12″ circle. Use one circle to cover the bottom of deep 9″ pie plate. Do not trim edges.
For Filling:
Combine turkey, veggies and cream of mushroom soup. (Gosh, that was hard, wasn't it?). Dump it all in the pie dish, cover the mess with the remaining circle of pie crust dough, fold the edged together and pinch together around the edges. This is a chance to make it look pretty, if you want. Cut a vent for steam to escape in the top of the pie. (I usually use a fork to poke the words I and You in it and cut a heart out in the center –nauseating, ain't I?).
If you intend to freeze it, wrap well, label and do so. Then defrost and cook for about 1/2 hour at 425 o or until a nice light brown. If you don't intend to freeze it ahead, just cook it according to previous directions.
Turkey Curry
| | |
| --- | --- |
| 2 ½ c turkey, diced | 2 medium potatoes, diced |
| 1 c. milk | 1 c. plain yogurt |
| 1/4 c. raisins | 1/4 c. cashews |
| 1 c. peaches, mango, or apricots | 1 15 oz can coconut milk |
| Olive oil for sautéing | 1 large onions |
| 3T garlic | 3T sliced fresh ginger |
| 4 T curry powder | 4 T. spring water |
If you intend to freeze for later, toss all the ingredients but the coconut milk in a gallon freezer bag and freeze flat. When you want to serve it for dinner, defrost, toss in a crock pot for 6-8 hours and serve over rice.
Otherwise, toss in crock pot for 6-8 hours. Serve over rice.